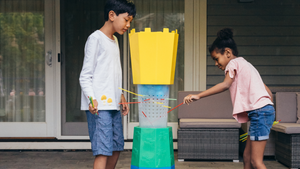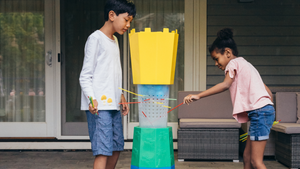 "Let's get back to imaginative play, to being creative, to using our head, to playing with our friends, being outside, and getting a little messy."
We're a small business with giant dreams located in Ontario, Canada. Led by parent and entrepreneur, Jen Amaral, Giant Games is our answer to the desperate cry for less screen time and more play time with friends.

We sell toys and games that are made to get kids and adults excited about spending time together outdoors. Every product is adult and kid tested and approved. Our products are extra durable to make sure they can be enjoyed for many years. Giant Games are perfect for parties, cottages, birthdays or even just an excuse to get your kids out of the house.

Forget FOMO. We encourage families to experience JOMO, the joy of missing out. Of losing ourselves to play time and outdoor fun. Let's do more together.
Giant Games is a division of DOM Sports, one of the longest standing and well-known names in school sporting equipment. DOM Sports has been around for more than 50 years and has become the trusted name in Physical Education equipment and games.